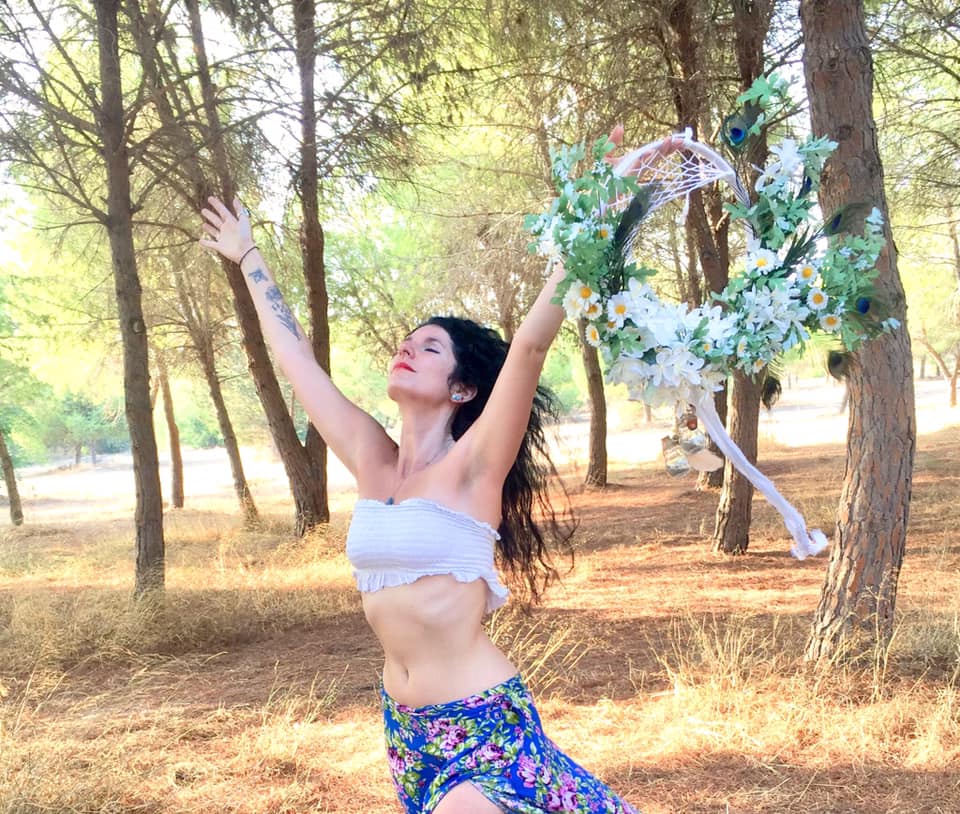 Q&A:
Why are you called The Wild Yogi?
For nearly ten years I had a lifestyle blog under the name Sunflowerteeth because it fit the asthetic I was going for when I finished my Fine Art degree. I've grown since then and wanted something that felt professional and people would remember. I also wanted a name that summed up the woman I have become. Nature plays a big part in my spiritual practice as a yoga teacher, holistic mentor and artist. Multiple people throughout my life have told me my nature is rather feral and free spirited. I have always loved the word "Wild" too.
Are you really an Artist?
Yes, I worked my way up through school and college studying arts and humanities subjects and then I qualified after 3 years in BA Hons Fine Art with an upper 2:1 and a primary focus on performance art, dance movement, video & room installations. I then went on to study an diploma in Art as Therapy. I'd like to study a botanical illustration diploma one day. I like the idea of leading a whimsical life as a yoga teacher and freelance botanical illustrator.
Why did you change profession from Artist to Yoga teacher?
From an early age I was the day dreamer and the stoic kid, pondering the meaning of life and had my nose stuck in a book. I recall memories of sitting under a tree in the rose gardens of my local park, thinking of past lives, spirit animals and keeping a dream journal. I'd write poetry and meditate whilst my sister climbed trees.
As a young woman my original plan was to train to be an art therapist. You need to do a three year art degree and then a masters in Art therapy. Not having the funds up front to do my masters, I tried to gain experience in mental health and save up to do the masters. At the same time I did a 6 month short course in Art as therapy as well. Difficult moments happened in my mid to late 20's that made me rethink who I really was and what I wanted. At the time I was attending yoga classes at a local studio, I became completley enamoured by that world and my teacher really inspired me to become like her. It was the first time in my life to have a constant female role model that was healthy and she indirectly gave me direction, whereas in the past I floundered and made it up as I went along because I didn't have that healthy support network from my immediate family.
So I worked hard on my asana practice, did a lot of self study on yoga philosophy and related topics like the Charkas, Reiki, Buddhism etc and I then did a three day intensive training in Kids Yoga back in 2017 which taught me that you can include art, games and dance into the classes. It was that training that taught me creativity can compliment yoga, so my three years at university studying fine art wasn't wasted.
And even later when I attended training in women's circle fascilitation. Our teacher heavily focussed on sacred space- a room installation that feels magical yet grounded in the earth for women. My Fine Art skills felt like a preparation for that too because I have this amazing ability to create beautiful, dream-like spaces that feel welcoming and safe, with the use of fabrics, flowers, sounds and fragrances.
I am now an Ayurvedic yoga teacher and Reiki Master teacher who enjoyes combining multiple healing modalities and creativity into my classes, workshops, trainings and more.
What are your current dreams?
In 2019 I was traveling around Bali, Australia and Cyprus. Bali for two months completing three trainings, Australia for three months visiting friends and allowing myself some solitude and rest and then Cyprus for a month to see more friends and a wedding! This was a dream I had been manifesting for 5 years and I achieved it!
My dream now is to figure out what "home" is to me. I dream of owning a home that opens its doors to clients, with a small therapy and yoga room that opens out into a wild garden full of herbs and flowers. I dream of a home full of love, a loving partner I can't stop kissing and perhaps children one day and be that quirky family, neighbours find adorable.
The dream is to cultivate a life  doing a variety of things and  have the freedom to enjoy being creative. To have a lovely full time employment and also teach all my arty and holistic things on the side. To lead a whimsical life with lots of love, plants, a black cat, sausage dog and a wolf dog.
As a professional Belly Dancer do you teach classes?
I am not sure if I want to teach public classes but I think I would consider teaching belly dance as part of a holistic workshop or sacred feminine retreat that includes yoga, meditation, reiki and dance therapy. I am more of a performer than a teacher.
What are you currently working on at the moment?
As a Holistic Mentor: I am a yoga teacher, reiki master teacher and women's circle leader. I am bringing all my holistic, mystical, creative, wellness knowledge and skills together to create fantastic healing programs, workshops and retreats specific to women and teen girls using yoga, art, circle sharing, belly dance, massage, poetry, journalling, sacred cacao or flower ceremonies, moon blessings and group reiki to encourage a sense of healing and connection both local to the UK and perhaps internationally; two favourite places I'd love to do that in would be Cyprus or Bali.
As part of my journey as a yoga teacher I am in the process of creating a Podcast to link with this blog and website and I am working on a social enterprise project for the wellbeing of Teen girls.
As an Artist: I make dream catchers, handfasting cords and flower wreaths for weddings. I also create botanical illustrations as comission pieces for nature themed buisnesses. I am a Prose Poet and I am working on an illustrated poetry book which will be published in the new year. I am currently learning about making flower installations which is great because if I ever got married, I'd probably design the whole thing myself!
*New website is currently being built which will showcase my offerings*
What's on your bucket list?
I've always wanted to publish a book- Currently creating a poetry book
I want to see at least 40 countries before I die, I've already been to 21 so not bad!
Countries I currently wish to see within the next few years are: Thailand, Israel, Hawaii, more of Turkey, Spain, Malta and Italy.
I want to swim with dolphins and whales, I'd love to go humpback whale watching.
I want to spend a day with birds of prey.
I'd love to see the Northern lights someday.
I want to attend evening classes to learn Spanish and/or Greek.
I'd love to study Botanical Illustration to further develop my artistic skills and to compliment my Fine Art degree.
I want to have a go at Mermaiding.
I'd try sky diving.
 I want to further my learning of archery.
 I want to learn to rollerskate.
I'd love to live a simpler life, small abode, more land to grow herbs, veggies and wildflowers, a black cat and a wolf dog, just be proper witchy!
What do you love about life?
I love nature (especially in Autumn), the smell of trees after it's rained, applying Henna on my hands, Tarot Cards, chunky rings, the smell of Henna and the sea. I love water falls. Travel and culture are important to me. I love to read as it reminds me of my Nanna who taught me to read. I love hand crafted things from jewellery to cushions or clothes. Love wearing red lipstick. I love antique pieces of junk like old suitcases, antique floral bell jars and cameras. I love Middle Eastern dance forms and Iranian poetry. I love the Spanish Language. Chocolate. Mermaids. The word 'Quirky'. I love Learning about nutrition, well-being, herbal remedies, massage, Yoga, Mudras and Hindu Philosophy, I love listening to stories of love, eroticism & romance. I love Whales and Manatees. I love loving my body & practicing Yoga in my underwear, yum! I love the magic of life and what dreams bring.
What are your annoying habits?
 I am extremely clumsy which in turn makes me messy. Not that I am not clean and tidy but I tend to accidentally trip up and spill things or when I am opening food packets the contents explode all over the floor. I tend to nick socks and I don't always wear matching pairs either. I dance to music in shops. I also bite my lips when I am nervous. I am a terrible fidget in bed too, like a cat. I am also stubborn when people offer me advice I never wanted in the first place-If I ask for your advice then go ahead, if I didn't then mind your bees!
What type of music do you listen to?
 Tsar B, Lana del Rey, Shakira, Alanis Moressette, Poolside, Olafur Arnolds, Kyla la Grange, Joss Stone, Beirut, Bat for Lashes, Regina Spektor Massive Attack, Muse, The Doors, The Broods, Florence and the Machine…. I am quite eclectic really, I'll have days where I listen to vintage rock and afternoons of classical piano.
Who are your hero's/Inspirations?
Patch Adams, Shakira, Rachel Brice, Moria Chappell, Eva Green, Meghan Currie, Krista Marie Starr, Hannah Mermaid, Sharada Vaidika, Dan Eldon, Shirin Neshat and Shilo Shiv Suleman to name but a few….If you don't know who these people are or the work they do, do check them out, they are extra-ordinary people.
Books you read?
My favourite genre is magical realism (magic in the mundane), I love poetry, books on mysticism, well-being, herbs and folklore. I love studying books on yoga, yoga philosophy and anatomy, dance or art therapy and books about myth, goddesses and the "old ways".
Here's a small list:
Far from the Madding Crowd by Thomas Hardy, Pride and Prejudice by Jane Austen, Cloud Atlas by David Mitchel, 100 years of Solitude by Gabriel Garcia Marquez, The Dovekeepers by Alice Hoffman, What dreams may come by Richard Matheson, Captain Correli's Mandolin by Louis de Bernieres and The Guernsey Literary and Potato Peel Pie Society by Annie Barrows.