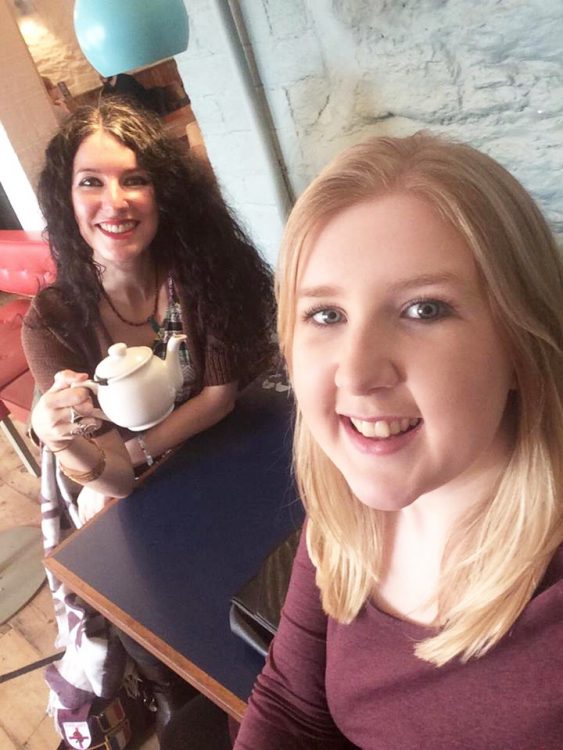 About a week ago I met up with a friend called Lauren whom I've known for 4 years now. We started out as work colleagues in the same part time job and she has now moved on within the world of law and I am very proud of her accomplishments. We hadn't seen each other since my birthday so we decided to have lunch and a mooch around our favourite shop, the Body Shop together.
What I love about Lauren and what she teaches me is to relax and to treat myself more. She is not an over spender on things but she does work hard to get what she wants. When I tell her there is something I really want, her response is always "Get it then, don't feel guilty for treating yourself." and I love that. I do struggle with guilt and learning to value myself has been a hard road to walk down but I'm slowly getting there (Hence the red lipstick and tattoos). Through friends like Lauren I am learning that buying stuff for myself doesn't make me a consumer or a shopaholic, it makes me normal for wanting to be attentive towards myself plus the Body Shop uses organic products that are not tested on animals. At the Body Shop Lauren found a body mist she felt would suit me and it did smell divine and very sensual and so she devilishly tempted me to buy this very sexy Black Musk body mist.
Lauren: "Katie, get it, it's very you, I mean just look at the sign, it says "Sweet on the inside, Fierce on the outside." it's totally you!"
Me: "Do you really think so?"
Lauren: "Yeah it's just you if you were a perfume."
Me *with a smile*: "OK then!"
Sometimes you need friends around you to remind you of your worth and to teach you self love, in a world where we are bombarded with negativity on a daily basis, it's important to give yourself some love, to be kind to yourself and others throughout the bad times by just getting that book or dress or perfume you wanted, sit in meditation for 5 minutes, laugh at puppy videos on youtube or take a nap and go see friends and family members whom you can be yourself around. Life is so short so practice love in all shapes and forms.