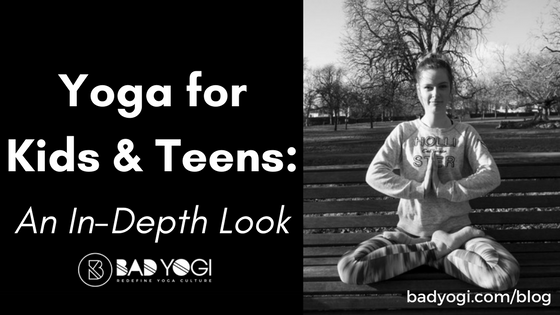 My latest article with Bad Yogi is now published, this is the grand finale of a three part series based around yoga for Teens, you can read the other two below. It's an in-depth look at the health benefits of yoga for Teens. This particular article took a short while to put together and edit as its such a vast subject that is still under research. My teacher, Charlotta Martinus is pioneering for Teen Yoga to be brought into schools across the UK, she is even doing talks at the house of Lords and her first Teen Yoga book will be published this August 2018.
This is my 10th article with Bad Yogi (hurray!) and it may be my final too. I have so much going right now and I think it is time to move on to other ventures. I do have ideas for two more articles, but we'll see.
I do feel that this is one of the most important pieces of writing I've had published and I also feel strongly that young adults need our help more than ever before.
"Yoga for Kids and Teens is growing in popularity all over the world; adults are realizing how beneficial a yoga practice is to the children in their lives. School teachers and parents alike are learning how to teach simple yoga and mindfulness sessions before class or before bedtime and qualified kids and teens yoga teachers are highly sort after and some yoga seniors are pioneering to put yoga onto the school curriculum because there is strong evidence from psychological and neurobiological reports that suggest yoga and meditation are deeply beneficial practices both in short term and long term in your children's lives as they grow into adults."

Read more here: The Health Benefits of Yoga for Teens: An in-depth look
Read the other Teen Yoga articles by clicking on the links below:
Teen Yoga Article Part One:12 Best books for Teen Yogis
Teen Yoga Article Part Two: Why I became a Teen Yoga Teacher
If you wish to read other articles I've written for Bad Yogi, click on this link here:
Katie Ness: Bad Yogi Publications
If you wish to read articles I've written for Yogi Approved, click on this link here:
Katie Ness: Yogi Approved Publications
Here is my Elephant Journal Article: Life Lessons learned in Happy Bay Pose
Here is my Rebelle Society Article: A Love Poem by an Imperfectionist
For inquiries about my rates and availability to write for your platform, please visit my contact page for more details.