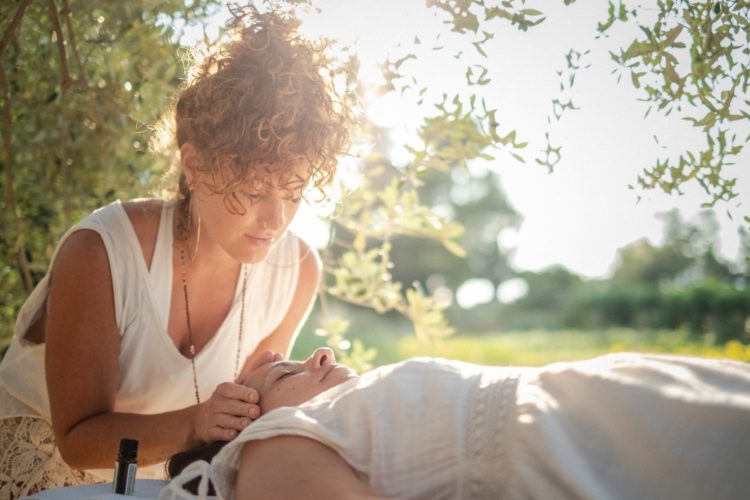 I was in Bali for two months to do two life changing courses. Leaving 10 boxes of belongings in my mum's attic and only taking two small suitcases of essentials with me, I left England late February with a flexible plan and an open heart. I was already booked onto the Women's Circle training which lasted ten days in Ubud and then I went on to do my 200 hour yoga teacher training in Canggu for 22 days.
Then something unexpected and amazing happened. I found the courage to miss my return flight, extended my visa so that I may stay in Bali for another month and I returned to Ubud with a new friend who was my roomate on the teacher training. Janie and I had a general plan to be site seeing buddies for two weeks before we go our separate ways. Residing back in Ubud and staying back at Gerebig Bungalows one morning I am checking my social media platforms and discovered that a Reiki therapist and teacher that I love, Joanna Lewins, was holding a Reiki Level 2 training in Ubud, on the day I was supposed to catch my return flight and she was facilitating it literally ten minutes away from where I was staying!
This was destiny for multiple reasons. Firstly, I did my Reiki level one training back in 2013, which was wonderful and I wanted to wait for the right teacher to train me at level 2. Twice I attempted to book onto a training in Plymouth back in England, only for the teacher to cancel both times. I remember being angry at this at first but then I realized the universe was telling me "This is not your teacher". Secondly, I have been following Joanna Lewins for a couple of years now and she flits between London, Ibiza and Bali. I thought to myself "I'll just attend her London training one day" even though I dislike London because its a stressful environment for me, I felt perhaps that was my best option. I never thought Joanna and I would be in Bali at the same time or that she was facilitating trainings too and facilitating them round the corner from my accomodation!
It seemed too perfect to miss and a great excuse to miss my flight. The 4th April is a very special day for me now, that last minute decision and sudden surge of courage changed my journey. I would have gone back to the UK but now I am in Australia however this is a another story for a different day.
I am not usually a risk taker and I have never missed a return flight before so a part of me was quite scared of this decision and I was hesitant about attening the Reiki training. But everything just felt serendipitous so I followed my heart.
And I do not regret one moment. Attending the training with me were three other women so it instantly oozed female empowerment with witchy vibes. Joanna set up a very beautiful shamanic looking alter on the floor for the four of us to gather round and I was so at peace I totally forgot I was supposed to be onboard a plane back to England until I saw a plane dart through the clouds as I looked out the window. And even then, I had no fear, I just smiled and knew all would be well.
What I loved about Joanna's teachings is that her wisdom is grounded in the earth. Many teachers who teach alternative and holistic therapies have a tendency to be fluffy which then gives such healing practices like Reiki a bad reputation for being new age crap. Joanna showed us that at its core, Reiki is just love and we are giving our clients space to heal themselves and if something mystical happens sometimes then that is also great but not the point. Reiki and many other healing techniques all have a core belief that we are all energy, pure consciousness and we are all connected. In yoga this energy is called Prana, in Chinese medicine it is called Chi and in Japanese spirtuality it is called Ki. It is all the same and these practices have been around for hundreds, if not thousands of years. Science is now catching up with these ancient practices and has even "discovered" that the Aura exists, although scientists have coined it the "Biomagnetic field", it is essentially the same thing. As someone who sees beyond what we think we know about life, as a practicing hedgewitch, I truly felt called to learn from Jo and I was so enamoured by her presence and how she held space because it is exactly how I wish to be as a teacher.
The morning was spent going over Reiki level one, introducing us to Reiki level two, the attunement and practising the first symbol. The afternoon consisted of learning a few more symbols, a distance healing exercise and finally a practical 20 minute exam on each other. I loved the use of crystals, shamanic smudge wand, oracle cards, goddess statues, sage, insense and a witches wand throughout! There was something so free spirited and accessible about Jo's teachings that gave me confidence to essentially be myself and practice giving Reiki in a holistic way rather than being regimented, the whole class was free flowing like water, like a river.
At the end of the day, she gave us all a few sweet words that nearly made me cry because what she said was truly heartfelt and intuitive, I felt seen. She told me to be fearlessly witchy, she could feel both a brilliant witchy and mermaid vibe radiating from me and said "You're a real earth mama!" to which I replied "Really? you see that in me? That's funny because I see so many women who have that earth mama vibe and wish so much to be that one day when I become a mother, to hear you tell me I already am that is so healing for me, thank you!" I appreciated her insight and her wisdom, she reminded me of the high priestess in tarot decks.
This Reiki training was down to earth and peppered with a hint of shamanism which spoke to my heart. I came to Bali to attend two trainings and left with three certificates and three "titles"! I can now say I am a teacher of yoga and women's gatherings and I am also a Reiki practitioner! On top of this, I am now also in Australia. I would never have opted to travel to Australia if I hadn't attended the Reiki training and I am thankful for the stars aligning to make it happen. So thankful to Jo for being the inspirational wise woman and mentor that I needed, she swam into my life like a mermaid at the right time in my life. Her trainings are so magical.
Visit her website or follow her on instagram for more information about upcoming courses and retreats!