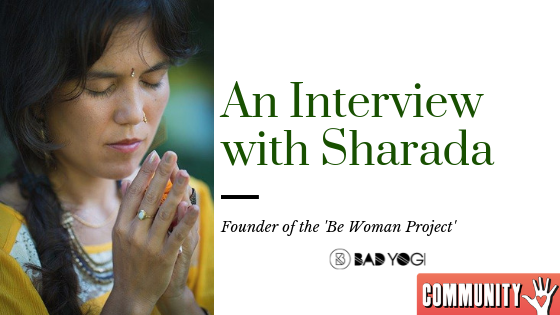 I've known my teacher Sharada for about a year now. I've attended two of her women's circle trainings and I am now one of her instagram and social media managers, some day soon I'll be taking on board the job of blog manager for the Be Woman Project too and I'll be mentoring on her next Be Durga training in Bali next year! I truly love what she is creating and growing for women and I've wanted to be a part of a sisterhood for a long time, so to be a part of the team.
During my stay in Ubud, Bali, Sharada and I worked together to create an interview, spending about an hour talking and discussing her spiritual path and what brought her to creating the Be Woman Project, and this article is the final result!
"The warm Balinese air caresses my skin as I walk across three stepping stones to a cute little house guarded by a quaint little moat, surrounded by tropical plants and the gentle hum of insects and frogs, whilst the birds chatter in the distant trees. Leisurely lounging on a giant window seat with a pot of homemade chai, a cat, and multiple cushions is a beautiful woman whom you'd almost mistake for a fairy queen. With a tender spirit, a smile that could melt butter, she floats over to me with her invisible wings to give me a sweet, loving hug.
Sharada is the creatrix and founder of an incredible organization called "The Be Woman Project". Knowledgeable in Yoga Philosophy, Vedanta, Sanskrit, Puja ceremony, and a former Odissi dancer, she teaches on international yoga teacher trainings and continues to manage the growth of her project centered on women's health, womanhood, and sisterhood.
She sits with me to discuss living a spiritual life and how the Be Woman Project came into being."
To read more here: An Interview with Sharada, Founder of the Be Woman Project