The more I learn about Yoga and Ayurveda the more I want to deepen my knowledge and connection to plants and our planet. From nutrition to botany to herb drying. From creating herbal soaps and shampoos to cultivating a herb garden for tea and remedy making. To learning the symbolic and folklore meaning of flowers and plants to learning how to dye clothes with plants. As well as wishing to study both a herbalism course and botanical illustration diploma one day; needless to say I've been doing a lot of self study on the world of plants and how to bring them into my every day life- I've even been trying to learn how to make a traditional Canang Sari which is a Balinese flower offering. I'd love to swamp my home with house plants, herbs and botanical illustrations too.
Until then, I am collecting books to read and here are some lovely books I recommend any plant lover would love on their shelves.
Braiding Sweetgrass by Robin Wall Kimmerer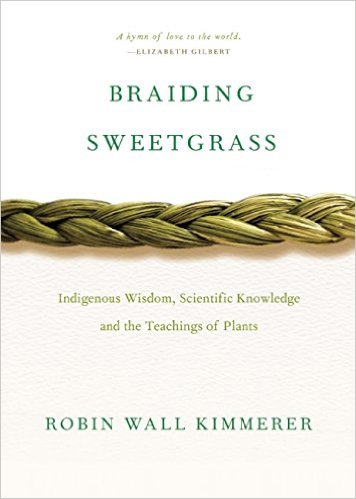 This is a beautiful book that straddles the place between scientific research and indigenous wisdom. The author narrates the book and her down-to-earth storytelling is personable and sweet. She has such a wonderful way of teaching the science of how a whole variety of plant life lives and adapts in the world, while seamlessly blending in indigenous stories and commentary on climate change and environmentalism. She holds all the feelings in one handwoven basket – the fear and frustration at the decimation of so many species, the awe at how other species have adapted, and her own vulnerabilities and hopes about the future. It's like taking a long nature walk with a very wise friend, who points out the beauty and resourcefulness of the plant life all around us.
The inevitable metaphor for Kimmerer's approach is the "braid." She brings together strands of traditional Potawatomi (and more generally Native American) teachings, detailed scientific understanding of environmental dynamics, and personal anecdotes in an absolutely entrancing blend. She has a generous heart, doing her best to imagine ways that non-Native people can develop indigenous relationships with the places they (we) live.
Buy the book here: Braiding Sweetgrass
Botanical Artistry by Julia Trickey
This book is a visual feast exploring Julia's botanical art. Less of an instructional book, more of a pretty coffee table book to inspire and captivate. What I love most about her art is that she explores imperfections and decay. This is unsual in the botanical art community and profession where most botanical paintings are scientific and depict the flowers or plants in their most perfect form. Julia describes the joy and pleasure gained from observing, drawing and painting plants whether they are freshly picked or dried and faded. The beautiful paintings give the reader enthusiasm to try out the different ways of presenting the life cycle of plants. This book is quite small which is really lovely to travel with and it does have some basic techniques covering about two pages. Buy the book here: Botanical Artistry
Evolutionary Herbalism by Sajah Popham
Evolutionary Herbalism is simple in truth, yet astoundingly universal in its application for healing oneself and the earth. It reveals an archetypal common ground between a dizzyingly broad spectrum of tools and modalities.
It points to a system of human and plant wisdom that can help lead us away from hit and miss models of "allopathic herbalism" toward a holistic way of understanding both ourselves and plants. This allows us to select herbs with absolute precision. Sajah Popham teaches us how to develop the eyes to perceive the "light of nature" and attain the experiential knowledge of how plants can calm overactive or strengthen deficient influences in people through their observable attributes. Plants selected to match the unique attributes of an individual can improve every aspect of that individual's life. Popham draws from alchemy, medical astrology, Ayurveda, Chinese medicine, aromatherapy, flower remedies, tissue states and more.
Buy the book here: Evoluntionary Herbalism
Rosie Sanders Flowers: A celebration of Botanical Art
It's really refreshing and rewarding to get a book which conveys the impact of Rosie's very large paintings in the same way as happens when you walk into a gallery and see her paintings for the very first time. The paintings exude dynamism and sensuality in every brushstroke, while their richness of color sets her apart from her contemporaries. The reproductions of the work are very clear and the colours are so vibrant. A must for all botanical artists and plant lovers. It is a larger than normal book so allows for life size images. Another beautiful coffee table book or excellent study material for budding artists and botanists alike.
Buy the book here: Rosie Sanders Flowers
RHS Latin for Gardeners: Over 3,000 plant names explained and explored by Lorrain Harrison
This is a well made book, with beautiful illustrations and belongs on the bookshelf of every serious gardener, botanist, botanical illustrator and beginner. Besides the many pages that explain over 3,000 plant names, there are stories of great botanists interspersed.
The book explains (using simple language) the meaning of those long Latin names on plant labels at nurseries. It also helps with the pronunciation of the word as well. As the book explains using the book to look up the Latin name will with most plants help you place the plant in the right spot in the garden and also help with it's ongoing care. The book also has extra elements such as some history about the great plant hunters and also some text boxes (fully illustrated) showing you how some of the Latin names are used. While it is not a book to sit down and read from cover to cover, the pages that highlight different plants or explain different types of plant names make for a nice mix of pleasure reading with reference material. Buy the book here: RHS Latin for Gardeners
I truly love plants and nature and wish to fuse this love and knowledge with my entire lifestyle and work as a yoga teacher and women's circle facilitator. If you enjoyed this post, click on the links below to read more book reviews!
I've also written book reviews for Yogi Approved click, on the links below:
Six Soulful books for the summer
Five books for the Winter reading list
Five books for your Fall reading list
And Bad Yogi:
8 Poetry books to inspire your yoga practice
4 books by inspiring yoga teachers
12 great books for Teen Yogis
Here are some other book reviews published on the blog:
Book Haul: Nature books for the Green Witch



Book Haul: More Magical Realist books
Book Haul: 5 Beautiful books on Botanical Illustration
Book Haul: Seven books about Natural Magic & Herbalism

Book Review on: The Shamanic way of the Bee
Book Review about: Alchemy of the Heart
Book Review about: The Book of Dharma
Book Haul: Empowering books for Wild Women

Book Haul: Seven Books about the Sacred Feminine

Book Haul: Seven Magical Realist Novels I Recommend

Book Haul: Obscure Poetry Books I recommend
I am available to review copies and creating sponsored blog content, visit my contact page for details.
Please note that I do not accept self-published books or e-books for review.