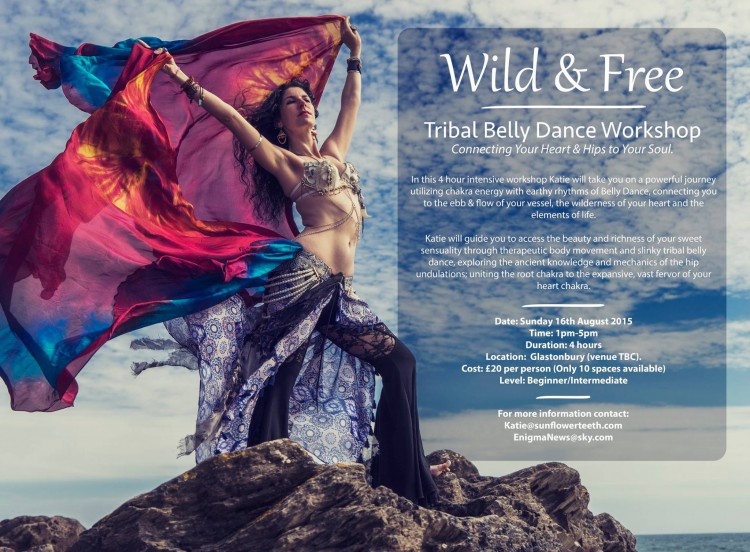 So here is one of two big announcements! It was so difficult keeping this a secret until the opportune moment; I really wanted to wait until the poster was completed because I enjoy using words and images together as it is a bit more professional and powerful. Some people kept wanting me to just announce this news without the poster but it didn't feel right and I always dislike telling people things with just words, it looks weak to me, like there is something vital missing?
This workshop is going to be a fusion of dance movement therapeutics, tribal belly dance, chakra healing (primarily the root & heart chakras) plus meditation and some simple Yoga stretches. So these women are in for a real treat and I hope they come away feeling beautiful, powerful and light as a feather. I entitled this workshop "Wild & Free" for numerous reasons, mainly because a lot of women feel restrained in their daily life situations or by their minds which have been programmed by social conditioning since childhood and yet, at their core have that gorgeous primal, wild energy locked away in their hearts and I want to encourage a metamorphosis to set that primordial energy free. The Heart is the most expansive energy, it's bigger than the brain so unlocking that love and your wild self is truly liberating. You are your best self when you can be wild and free.
I have worked really hard to get to this point in my life and career, I spent months planning & prepping for this one workshop but also studied a years worth of professional development in order to run therapeutic dance classes, workshops and retreats. I have great knowledge in mental health & eating disorders, nutrition, creative therapies, the anatomy of the body, somatics, dance leadership, the Chakras and Yoga Philosophy in order to lead holistic workshops tailored to healing the mind, body and soul. If anyone is interested in attending my workshop, please get in touch via my contact page! If you want to attend one of my workshops but can't get to Glastonbury or maybe you want to host me in your area then lets talk! I am already planning to run workshops in Plymouth and other parts of Devon in the UK and I am discussing potential workshops in Cyprus & Bulgaria in the future.