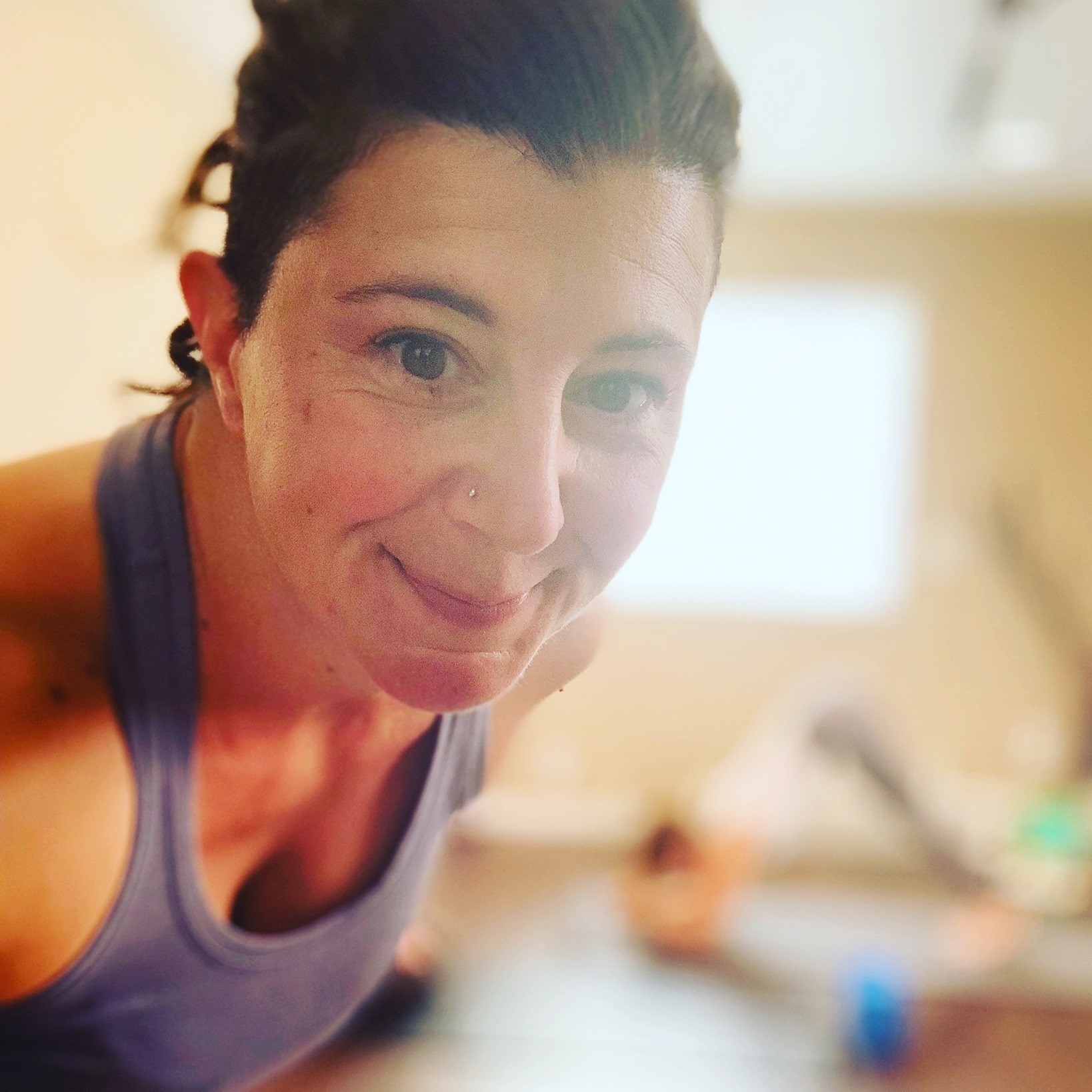 Melanie Salvatore-August is a tour-DE-force in the yoga world as a yoga teacher, brand ambassador for Lululemon active wear, author of two books Kitchen Yoga and Fierce Kindness, founder of the Fierce Kindness organization and busy mom and wife to a beautiful family in San Fransisco. She is currently on a book tour around the USA to promote her recent book Fierce Kindness however she very lovingly took some time out of her busy schedule to answer some questions. Learn more about Melanie and her beautiful perspective on life and work in the interview below
Melanie, can you tell us a little bit about yourself?
I am driven by connection. I always have been. That moment of feeling in true understanding with another is enthralling for me. With that the power of feeling seen, heard and uniquely valuable I energize and am inspired. When I was a little girl (to my siblings dismay) I jump up during the commercial breaks to dance and gyrate in front of the TV. I definitely wanted attention, liked making my parents laugh and yet the deeper essence of it was that I ached for the regular life distractions to stop and make heart connection. My poor siblings, I can still hear the echoes of "Mom! make her stop. Get away from the TV!".
The folklore of my family is that from the earliest days I loved everybody and anybody and that was especially inconvenient in the grocery store as I would reach my arms up to be lifted out of the cart to any kindly passer by. Again, connection and I learned that I could make people laugh too with my impersonations of others, plus dancing and an eager spirit to please the only natural path it seemed was to be an actress. It was an equation that seemed fitting and yet it did not truly align with my heart and dharma. I graduated with a BFA from a conservatory drama school University of North Carolina School of the Arts and went on to work in the entertainment industry in NYC and LA for over 10 years before I shifted into full time yoga teaching. I have been a SAG member since 1991 and done my share of live theatre, commercials and film. I spent many of those years writing and performing comedy with a group of super funny women many of whom are now veterans in the entertainment world. The cycle of rejection and constant self-focus kept me anxious and dark. My yoga practice created peaceful power and a larger view of myself and the world around me. The more fulfilled and empowered I became through yoga the less tolerance I had for the entertainment career aspect of my professional life. It organically and gradually shifted away.
During that shifting I met my husband who is a writer, filmmaker and yogi. We fell in love, married and soon after started a family. We are blessed with three boys under the age of 10 and currently live on a budding urban homestead in San Francisco Bay Area. I am an aquarius, a part-time introvert and fan of big wheels, basketball and looking at the sky.

When did you walk into your first yoga class, and what drew you in? And who or what made you decide to become a yoga teacher?
My first yoga class was at the Manhattan Actors Equity Building and Gym in Hell's Kitchen NYC @1994. It was in a darkened (with red tracked lighting) meditation room where I could barely see my hand in front of my face. I never saw the teachers eyes and yet I remember his beard. All I really knew was that I for one moment at the end of savasana felt relief from the feeling of despair that was always with me. It saved my sanity and my life I think.
I came to yoga with anxiety and depression. It made me feel better and I wanted to help other people feel better too.
Often, I would wistfully say out loud,"I just want to teach yoga." and Rafael, my husband turn to me one day and said,"Then do it." With his love and support, I did.

What are the three biggest ways your yoga practice has impacted your life?
Just three? Oh my good question, I will really have to distill it. It freed me of feeling stuck in my immediate circumstances and gave me daily, visceral embodiment of freedom and timeless peaceful power. It helped give understanding that I AM. I has given me tools to regulate my thoughts, ride my emotions and direct my focus to fully living. It reminds me that time here is short and helps me let go of limiting mental construct and say yes to oneness and love. Is that three? It also gives me tools for joy and for my life to be a prayer, it has made me feel so much better.
In addition to being a yoga teacher, you are also a gifted writer. Can you please share a bit about your journey as a writer in finding your unique voice, sharing it with the world, and ultimately becoming a published author?
Thank you! All the twists turns and culminations of my life; from my childhood, to years in the arts, to many hours in the asana/meditation room led me to writing. As a preteen I had a fascination with all things metaphysical. One of my first influential books was Shakti Gawain's Creative Visualization, it had a huge impact on my thinking. I have been a voracious reader of all new and old spiritual texts over my whole life. Affirmations and visualizations to journey into deeper parts of my consciousness have been a staple of my life practice. The week before Lisa McGuinness now friend and my book's publisher contacted me to write Kitchen Yoga I had written down the intention on a piece of scrap paper of writing my first book as a vision and seed to manifest. I was amazed and yet not surprised that out of the blue a publisher contacted me. I believe in the connection of life and purpose. I believe my purpose is to share hope, joy and love through all the different avenues of arts and communication.


How did your current book Fierce Kindness come into being and tell us a little bit about your first book Kitchen Yoga?
Lisa (the publisher at Yellow Pear Press) attended one of my yoga classes and from my understanding she had an experience that confirmed and supported a powerful decision she was working through in her life. She remembered me from that experience and when the time was right for her publishing company Yellow Pear Press she contacted me with the idea of Kitchen Yoga. She offered the concept and I attempted to create an accessible, daily practice book that supports from the inside out, meaning from the thoughts out to the actions to create a balanced and intentional life. The book is multi-layered with each chapter having various affirmations, inspirations, asana, pranayama and meditations that coincide with the chakra system. I was in labor with my 3rd son when Lisa contacted me. I wasn't sure if I could manage writing, teaching and three kids with one a newborn and yet it happened rather seamlessly. My son was on my lap sleeping and nursing through the entire book writing process so he has to be credited as a silent author. Lisa and I work well together, she cares about being intentional and making a difference in the world with her offerings. Fierce Kindness: Be a Positive Force for Change was again a natural progression of our growing relationship and I think for both of us a passion project.
In relation to the book, can you tell us about your project The Fierce Kindness Movement and how can someone be involved?
Over the last 5 years, through the development support of lululemon (who I have had the pleasure of being a long time ambassador for) I began to actualize a greater impact for good in my community and beyond. Through one of lululemon's ambassador development retreats it came to me that my understanding of how to make change was to be harnessed and structured so I could reach more people. In the last 4 years, FK events have given athletic shoes for foster kids, toys for Children's Hospital Cancer patients, food for families in crisis, toiletries for women's shelter, warm socks for homeless and more. Fierce Kindness is about connecting to purpose and love, using that as power to change the inner conversation from fear to love and while you help yourself your also being of service to the world.
Do Good, Feel Good. Fierce Kindness is a way of processing and approaching life with the tools of how to connect with love and use fear for deeper self knowledge and ultimately how to return over and over to love. It is a call to action to live your belief in love and act upon the power that this belief gives you. The book supports with immediate and actionable tools and mindset shift as well as daily directives to be of service to others. Both the tools and the connection in the world to be of service will make you feel better, happier and more powerfully contented. Through live and online trainings and events, the movement is growing and by 2018 will have a full online education platform that will have tools for self-development as well as leadership support and community building. This year has not only brought forward the book it has also given me an amazing partner in the organization Kaitlin Pratt MFT who is a former deputy sheriff and now a trauma therapist. She embodies fierce kindness and we are excited about the future of Operation Fierce Kindness.


When we step onto the mat, we set an intention for our practice. What is an intention/mantra/quote that you live by, that helps guide you throughout your days, your teaching, and your life in general?
Guru Chant is how I step into my practice and in to life. I am surrendering and stepping in to my highest and eternal self, which is beyond my immediate circumstances. It reminds that I come from love and will return to love so move forward with faith.
In your book you talk about taking charge, being positive and living your life with fierce kindness and that's such a profound concept that a lot of people can really benefit from, can you tell us how to apply that to daily life?
I am so glad that you think it is of benefit. The application is in small daily choices and actions that are repeated. The power is in the consistent pause; as it is the pause to feel, discern, redirect the mind to be in alignment with the heart/soul will create fulfillment, power and expansion into the best truth of yourself. Fierce kindness is for the person who believes in love and yet doubt has moved them just out of alignment with that belief. It gives them simple yet life changing tools to update their operating system and live in their beliefs. That creates powerful synchronicities as like attracts like and that amazing ripple effect of do good, feel good, feel good, do good that is transformational.


What's your advice to other yogi-preneurs for staying balanced, maintaining the vision, and making their dreams a reality?
You don't have to be finished or perfect to do good and create the life that you dream. Ask yourself the raw and hard questions about what you truly want and why you want to do it. Make consistent daily positive actions while trusting the timing and support of the universe and love. Notice when you are struggling and get to the root of what is causing this fear response, then use your practices to clear it and create again. Live, love and be grateful now, the rest will come. Trust the process and truth of your purpose which comes from love.
what does living a conscious lifestyle mean to you?
Waking yourself up over and over to the wonder of the moment and life itself as it is a blessing and is precious. Doing the best you can in any given circumstance to return to love as efficiently as you can.


What does the future hold for you? Another book perhaps? Give us a glimpse into your future goals and aspirations.
I'm excited about the launch of our online educational platform Operation Fierce Kindness as well as the Audible audio version of Fierce Kindness which will release in the fall. I'm in development for a TEDtalk-type version of Fierce Kindness as well. I am called to write more books and have a couple of projects in early stages that I am giving space, trusting the timing and process of it all. I am very thankful to have channels of service and expression. Thank you so much for your interest and kind support of Fierce Kindness.


Photo by Marilyn Isaac Photography
Melanie has been a delight to get to know, I truly resonate with her words, her incredible zest for life and her personality is beautifully radiant. I've also thoroughly enjoyed reading & reviewing her latest book 'Fierce Kindness' on Yogi Approved and Bad Yogi. Very soon I will be reviewing her first book 'Kitchen Yoga' on the blog next, stay tuned for that!
To connect with Melanie click on the links below:
Melanie Salvatore-August's Website
Her Instagram: melsalaugust
Her Facebook Page: MelanieSalvatoreAugust
Join the Movement: Operation Fierce Kindness
Buy her books:
Fierce Kindness: Change Yourself to Change the World
Kitchen Yoga: Simple Home Practices to Transform Mind, Body, and Life